Schaeffler OPTIME Condition Monitoring
What is OPTIME Condition Monitoring and how does it work?
Schaeffler OPTIME Condition Monitoring
Seamless Monitoring at lowest Cost
What is Schaeffler OPTIME CM?
In the OPTIME Ecosystem, which combines intelligent condition monitoring and lubrication, Schaeffler OPTIME CM is an easily scalable condition monitoring solution. It has been developed for various purposes in industry and is recommended for a range of rotating machines with a speed of 120 rpm*-5000 rpm.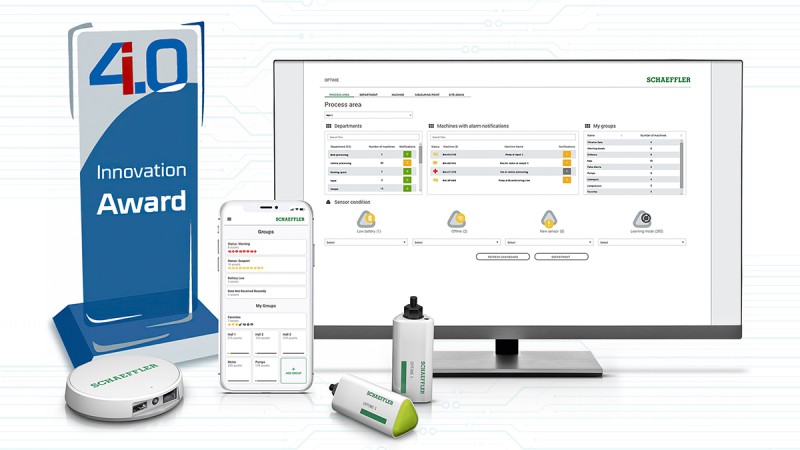 During the development of the system, special attention was paid to the very simple commissioning, problem-free expansion and versatile use of the solution. The effort for the user was kept as low as possible for each individual process step. These features make Schaeffler OPTIME CM particularly suitable for condition based monitoring of a large number of machines also for hazardous areas.
Benefits of Schaeffler OPTIME CM
Cost-efficient monitoring
Monitoring hundreds of rotating machines for just a few cents per day – up to 50 percent cheaper
than manual monitoring with handheld measurement devices
Solutions available for the hazardous areas
Quick to install
Installing the sensors and setting up the app takes just a few minutes – no previous knowledge is necessary
Use expert knowledge
Digital Service provides professional diagnoses based on expert algorithms and machine learning, available 24/7 via app – so you always make the right decision
For beginners and advanced users
Easy handling, offers decisive information and extensive extensions suitable for different users and needs
Schaeffler OPTIME Ecosystem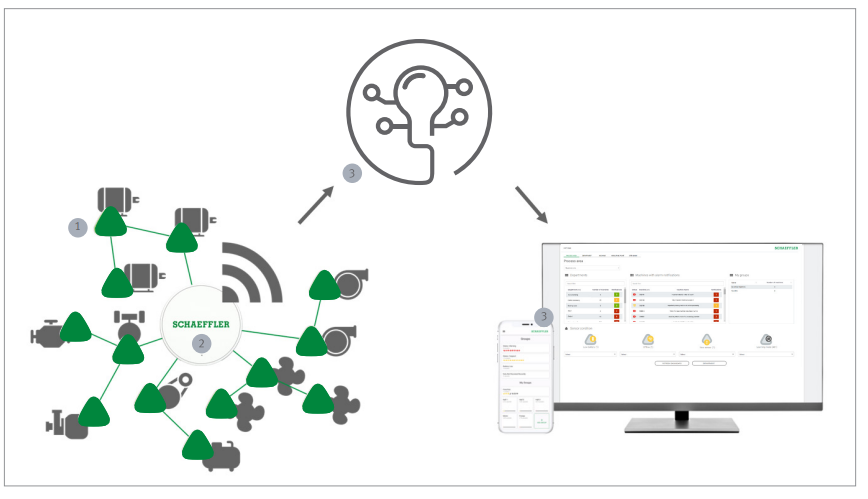 The battery-operated sensors can be mounted quickly and easily on the machines and record vibration and temperature data of the monitored unit. The wireless mesh network enables automatic data exchange between all connected units.
The gateway receives the data sent by the sensors and transmits it to the cloud. One gateway can cover 50 sensors.
In the cloud, continuous, automatic analyses are carried out and early warnings are sent out in case of beginning and imminent failures. The results are based on algorithms derived from Schaeffler's rolling bearing knowledge and condition monitoring expertise as well as machine learning. All results are available in an easy-to-use smartphone app and a web-based dashboard. The functions are tailored to the needs of the users and their individual work processes.
Schaeffler OPTIME Ecosystem
OPTIME Digital Service is a cloud-based solution and can be used via mobile App and web applications for desktop browsers, e.g. in control rooms or at the workplace. OPTIME Digital Service, is made available to the customer after subscription to the service by creating a dedicated customer area within the Schaeffler Cloud. The OPTIME installation is managed via the mobile application or the OPTIME Dashboard. OPTIME Digital Service includes mandatory and optional service components.

Description – Mandatory Services
Provision and access to your own customer area in the Schaeffler Cloud
User access and management
Commissioning and activation of sensors and gateways via the mobile app
Hardware allocation, including the creation of plants and machines, and corresponding groups
Access to mobile and web applications for desktop browsers
Note: Schaeffler requires the name and an e-mail address of at least one key user of the customer so that the tenant can be created.
The tenant will be set up after the customer has placed the order and will be invoiced at the beginning of the following month.
The customer will be informed by e-mail that the tenant has been set up.
Any agreed minimum contract period starts from the first month of the first invoicing.
Digital Lubrication Management
Display of status information of OPTIME Smart Lubricator devices (e.g. fill level, battery status or ambient temperature)
Generation and display of alarms (critical lubricant level, temperature limits exceeded, back pressure too high)
Identification of the causes of malfunctions
Support in the selection of lubricant and relubrication parameters
Remote modification of lubrication settings
Fees are only charged for active devices. A device is active as soon as the Schaeffler OPTIME Cloud receives data from the device.
Gateway SIM data costs are included in the monthly fee.
Digital Service Analytics
Vibration-based automated condition assessment of
monitored machines, using algorithm-based automated
diagnostics
Display of alarms and failure causes
Fees are only charged for active sensors. A sensor is active as soon as the Schaeffler Cloud receives measurement data from the sensor.
Gateway SIM data costs are included in the monthly fee.
Note: Schaeffler requires at least the machine type of the monitored machine for automatic analysis and alerting.
Other optional metadata for better results are criticality, ISO class of the machine and more.

Description – Optional Services
 Digital Service REST API usage
Access to REST API to retrieve data from the Schaeffler cloud into the customer system
Advanced vibration analysis tool for experts from experts 
For information on the prices of the respective components, please contact your Schaeffler sales representative.
Schaeffler OPTIME Ecosystem
The OPTIME app can be downloaded from the Apple App Store and Google Play. The app shows the real machine status according to criticality, thus allowing optimal planning of maintenance activities. You can organize your machine park individually and easily with the help of the group, machine and sensor management.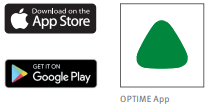 Schaeffler OPTIME Ecosystem
Thanks to this service, OPTIME data can be accessed via a software interface. You have access to the following data:
• per sensor: raw vibration and raw KPI values
• per machine: CM State, open alarms, history of alarms
Notes: Data access rates are limited by the API proxy. The rate limits ensure that the OPTIME system is protected against misuse via the API, whether intentional or accidental.
Schaeffler requires at least one lead developer from the customer as a contact person who is granted access to the Schaeffler API Developer Portal. The lead developer will be provided with access and introduction information. 
Monthly fees are charged for this service. The access to the service is granted via the Schaeffler Developer Portal to ensure state of the art security and system protection.
The OPTIME ExpertViewer digital service offers a comprehensive collection of analysis tools for manual in-depth and root cause analysis of vibration data. 
The service is compatible with OPTIME and "OPTIMEready" data (Schaeffler SmartCheck and Schaeffler ProLink). ExpertViewer is optimized for the responsive analysis of large amounts of vibration data. It is also easy to use. 
Users log in with the OPTIME user data. Good to know: the number of users on the customer side for the digital service Expert-Viewer is not limited. 
Monthly fees are charged for this service. OPTIME ExpertViewer is provided as a download and requires an active Digital Service Tenant.
Schaeffler OPTIME Ecosystem
The OPTIME dashboard is the central user interface for use in control rooms where KPIs and alarm notifications for plant condition monitoring can be controlled.
Track machine status
Active monitoring of machines and its KPIs
Display of alarm notifications based on learned KPI limits as an indication of possible machine defects
Confirmation of alarm notifications
Display and generation of log entries for machines
Display of KPI data and raw sensor data
Functions exclusively for administrators
User administration – Add, edit and delete users and profiles – Send notifications to users


Management of the installations – Add, move and delete gateways and sensors
The OPTIME condition monitoring system is suitable for machines that are operated continuously or partially continuously. Furthermore, the machine should run several times a day in a stable operating condition (speed and power) for a period of approximately one hour. With OPTIME 3 sensors, machine speeds from 120 rpm* to 3000 rpm, with OPTIME 5 sensors, up to 5000 rpm are recommended; the sensor variant OPTIME 5 Ex allows to extend this use case to machines in hazardous areas. When selecting the suitable combination of machine and sensor, some factors must be considered, see table.
Typical combinations of machines and sensors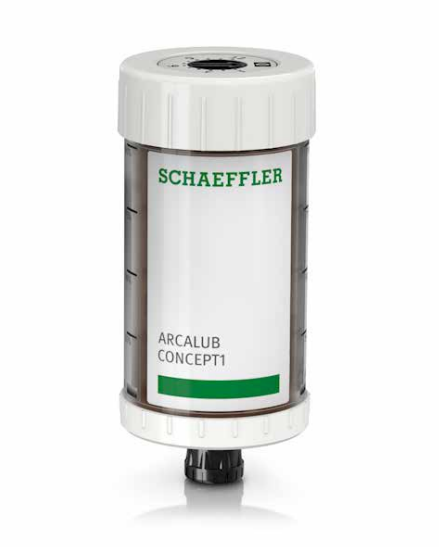 The lubrication system that gets straight to the point
Electric motors
Pumps
Ventilators
Conveyor belts
Machine tools (auxiliary units)
Cable cars (track rollers)
Technical characteristics
One outlet
Lubricating media: Oil and grease up to NLGI 2*
Lubricant volume: 60 cm3 or 125 cm3
Pressure build-up: max. 5 bar
Operating temperature: -20 °C to +55 °C
Operating principle: gas-driven
Discharge time at 20 °C: 1 to 12 months
Protection class: IP68
Certified
– II 1G Ex ia IIC T6 Ga
– II 1D Ex ia IIIC T80 °C Da
– I M1 Ex ia I Ma Protection class: IP68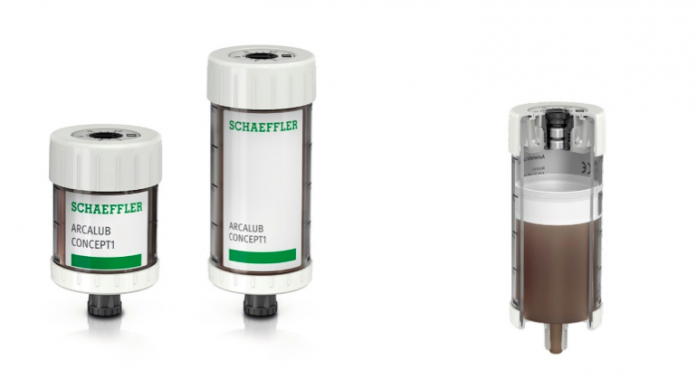 Flexible: Pre-filled cartridges with ARCANOL lubricant or empty cartridge for filling with customer's grease
Sustainable: Empty cartridges can be filled up to three times
and are enviromentally friendly
Cost-effective: Good price performance ratio within comparable equipment class
Plug & Play: Easy changeover to automatic lubrication (no special tools required)
ATEX-certified: Safe lubrication in hazardous areas